A bit daunting starting a thread on this car as its been with me so long, I've been through so much with it, and it's just about to get even more nuts than all the previous years combined....
Well back in 2003 I narrowly avoided wandering into a lifetime of bland modern car ownership as I was driving a Mk1 Mondeo.... thankfully this suffered a seized oil pump at the side of the M6 300 miles from home stranding me in Birmingham. Yes thankfully! As it meant I could get back on track and buy something old that I actually liked! So a few days of searching the classifieds eventually landed me with a pretty clean 1.6 Laser with decent T&T.... all for £380!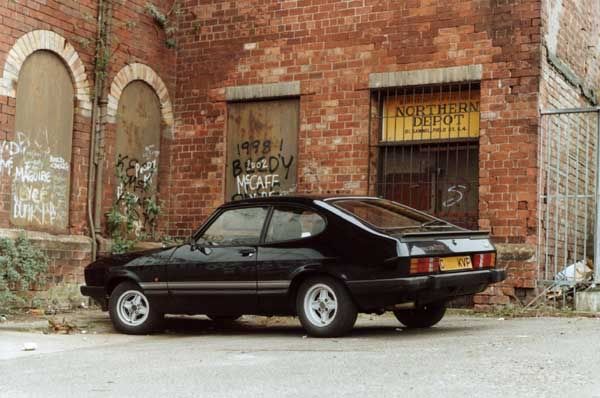 Painfully slow and barge like, but a billion times better than the fate I'd just bailed out of I was loving the Capri. A 2.0 soon went in, along with typical small scale mods to make things a bit brisker until two dead Pintos later I took the plunge and built my first (and only!) ever engine. A 2.0 Pinto with a DIY ported head, balanced bottom end, stupid RL21 cam (314 degrees duration!), rejetted 38 DGAS, modded inlet, straight through exhaust etc... Ended up making 150BHP (and sod all torque!). Was great fun, ran this daily as my only car for four years, putting on 100k miles @ 15MPG!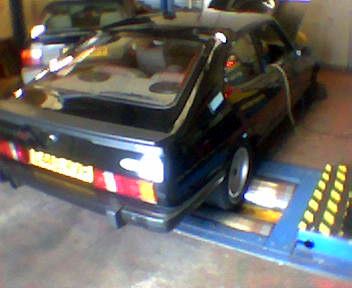 But it did still clean up well! Here's a couple of pages from its feature in 'Fast & Modified' magazine in 2005!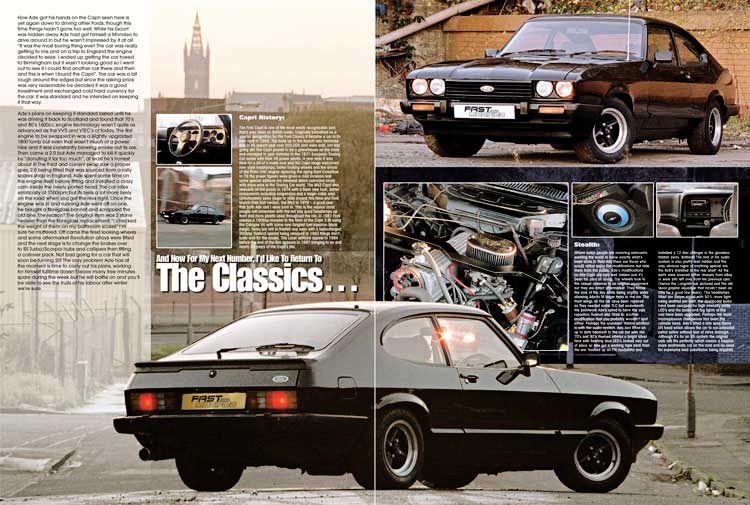 I used to quite like doing silly burnouts at any given chance, and drag racing with the other Carpi guys at Crail too. 15.8 was it's best.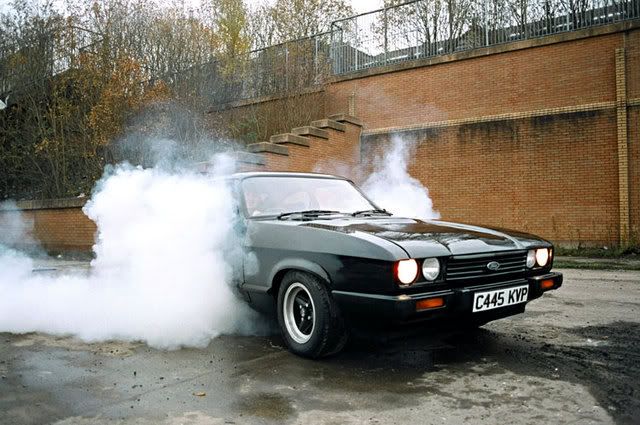 It ended up running on 13x8 Revolutions with a 3" slam on blocks and DIY coilovers. Handled great up to the limit, but terrible beyond it. Even still I was desperate to be able to drift it..... No matter how hard I tried in the early clueless track and streeto days it always went wrong, and with hindsight that's not surprising considering the bad mods, the base car and the lack of a proper diff!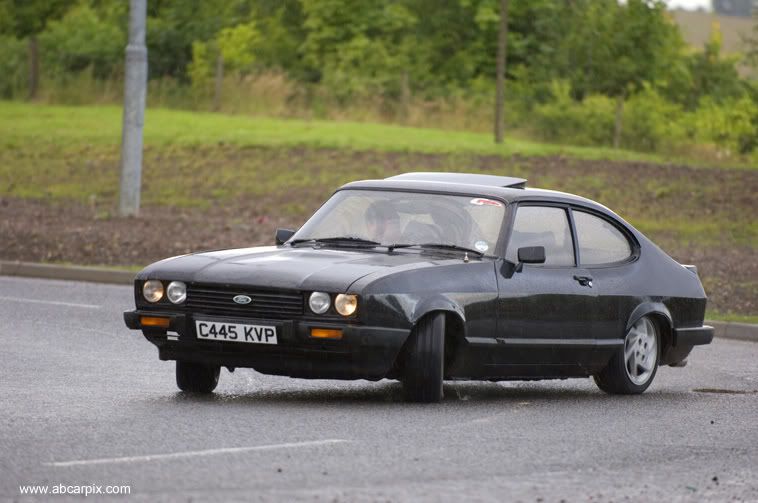 ooops!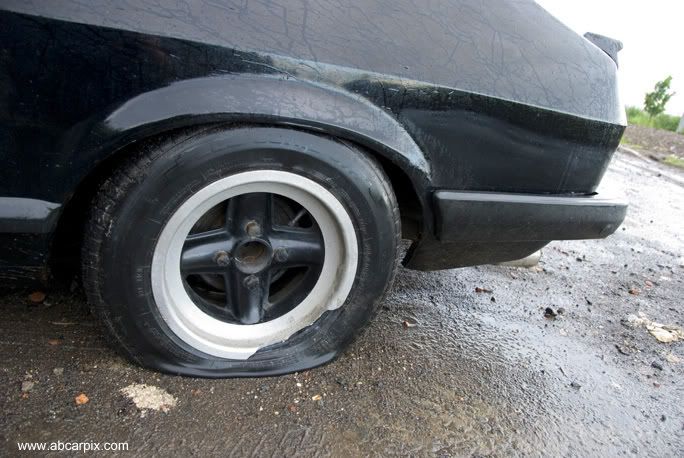 All year round daily slag: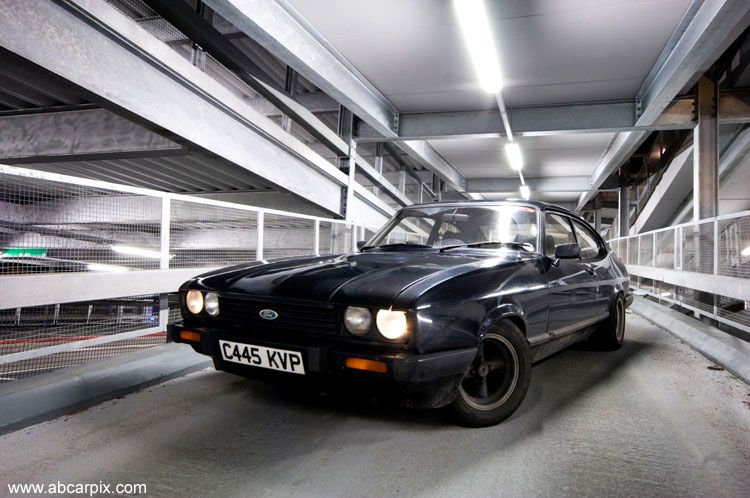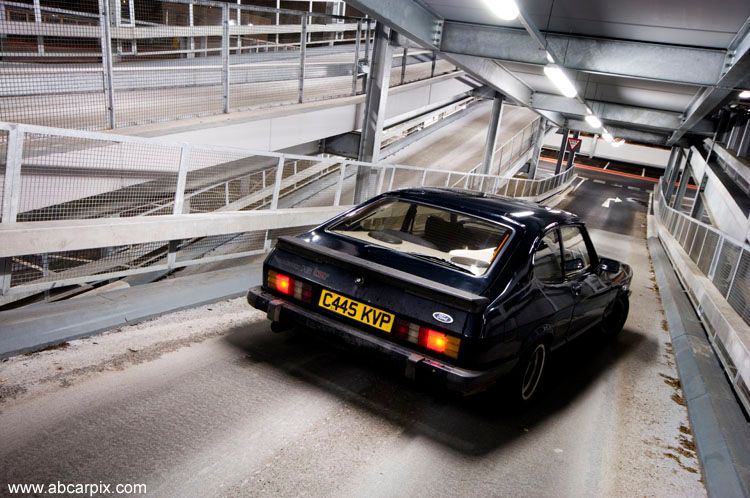 When the Capri was relegated to a second car I had the diff welded, swapped to sidedraghts and started going to drift days at Crail. Even with persistent efforts it just wasn't happening! I was feeling that my skills just couldn't progress in the car.... the snap back was ferocious, the steering had zero self centering and the mix of vagueness and twitchyness was as bizarre as it was nasty!
This was also when the car started apearing regularly in articles and 'staff car' updates as well...
As you can see, continual hard use on track didn't do the Capri any favours....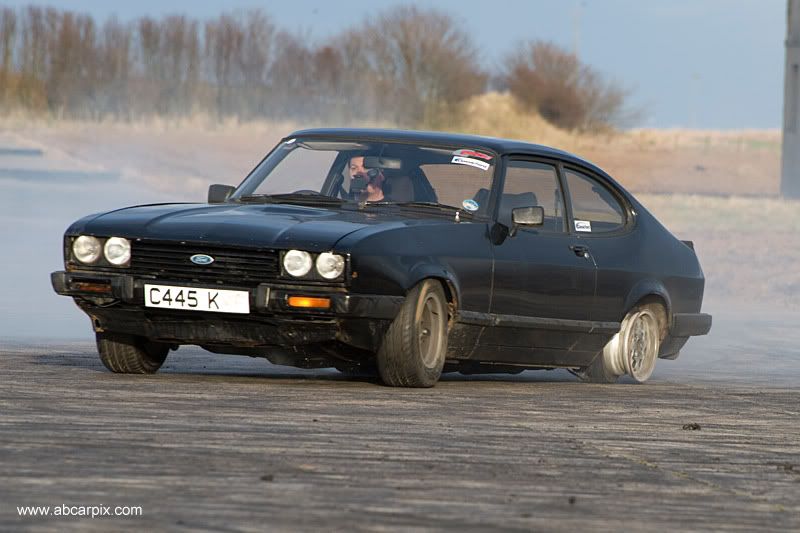 In its finest hour to date though it did look utterly epic sitting on these Image split rims that I have waiting to go back on.... 9x15/8x15 and just plain epic ;D
The engine finally gave up on the way to the Classic Ford show in 2009, and was left with
www.chizfab.com
to get to work on an as yet pretty vague resurrection.... This took a while, but eventually spiralled out of control!