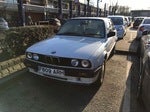 But how about us who drive alot for a living on a self employed basis? Fuel is easily the priciest commodity as it is

.
That is actually one of the arguments for rather than against !
Last year I did 2000 miles between MOT's yet paid the full VED. A rep who does 50,000 miles and therefore uses the road more pays the same amount as me ! Putting the duty onto fuel would then mean those that do the higher mileages pay higher rates of duty to reflect that. Self employed are lucky in that at least they can offset their motoring expenses again their income tax.
And no - I don't want VED being put onto fuel but simply stating one of the reasons it's touted about.
Paul h