Due to impending demise of the forum where I have been recording my infrequent Land Rover tinkering, I thought I would start a thread on here for my Ninety. To start with, some history...
Way back in 1996, I'd only had a couple of Mk2 Vauxhall Cavaliers since passing my driving test. But I'd wanted a Land Rover since I was a kid &, having saved enough cash from my first salary, I treated myself to the first of quite a few - I grew quite attached to it over the years hence its still here today!
It started life as a plain old 2.25l (yes 2.25l Series Landy spec, not 2.5l) 4-cyl petrol 'Hardtop' Ninety. To be a proper 'rivet counter' for a moment it should NOT be called a Defender, in fact it is a very early production model - hence smaller engine, plus features like 'lift-up' door handles & galvanised body cappings. British Leyland called it a Ninety in sales brochures of the time etc so I've stayed accurate in the thread title but '90' was used on some badging & will save a few characters from here on.... I don't think it was registered immediately after build for some reason because its C-plate would actually be too late for its spec. The (only) previous owner to me was a country estate so maybe it was a cheap/fleet order from demonstrator stock?
Anyway, I kept it completely standard for a year or two but that soon changed & it's been through various 'phases' since!
First up it was my only vehicle so, although you don't exactly buy a Land Rover for fuel economy, its thirst for four star (IIRC the best I saw was 18MPG while on a holiday in Snowdonia
) got a bit boring! I wanted to fit a 200Tdi engine but they were still pretty new so the (official Land Rover!) conversion kit I'd managed to but was traded-in with the only affordable lump I could find when it turned out that the block was damaged. With some additional cash, that got me a brand new Iveco 2.5l Turbo diesel engine with fitting kit transplanted-in by Frogs Island 4x4.
The Iveco engine is pretty comparable to the early Tdi & Frogs Island 4x4 offered various models as a conversion; back when non-factory swap were more popular in Land Rover circles (ie before Land Rover diesels got any good). With hindsight, I should have held out for another Tdi (but I'd have to of kept the original engine & run LPG for a while or something!) but the Iveco lump has been pretty good. Even without the intercooler option, the 90 can keep up with later Defenders from a standing start until the 4-cyl petrol gearing lets it down!
Backtracking to the vehicle that started me off down this path as a kid... Back in the '80s, Land Rover created a 'concept car' known as the Cariba to test public reaction to more of a 'lifestyle truck'. I saw this vehicle at a horse show or something as a teen & it left a big impression on me!

Here are some Land Rover press photos of the Cariba:



(I've actually purchased prints of these so hopefully uploading scans of them is acceptable)

After a while, I was married & kids were on the way! Obviously a 'van' wasn't going to be acceptable as family transport but, rather than be sensible, I managed to gain SWMBO's permission to get it converted into something like the Cariba - but with my own 'twists'.
Back at the turn of the Century, a company called Grand Western Concepts was marketing a 'cabriolet-style' soft top they called the 'Trekker 90'. My truck was converted & fitted with Recaro seats (from a Vauxhall Calibra!), including two individual forward-facing ones in the rear. There were a few other conversions produced by the company before they went out of business but mine was unique even among these; in its seating configuration, being fitted with a diesel & being painted an actual Land Rover colour (Atlantis Blue metallic, the colour used on the 50th Anniversary special edition Defender 90s)!
It was saved from general family duties from about 2000 onwards, when a small succession of hatchbacks & estates (Astra, 306 Hdi & various Mk1 Modeos) became inevitable. It stopped being regularly pampered / cleaned & began to be used for a bit of off-roading - nothing too 'hardcore' was done to reflect this though, just a few wheel variations plus a re-built gearbox!
Here it is back in 2009 on Land Rover's own test tracks around Eastnor Castle:
... and on some local Green Lanes around Reading: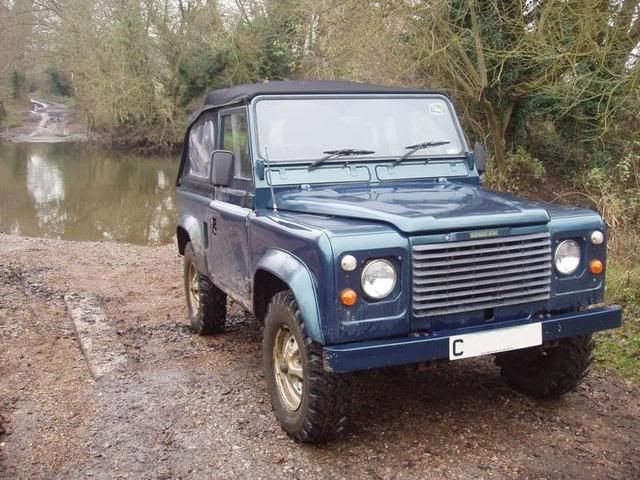 For the record, I even had a go on one of those 'RTI ramps' (that measure axle articulation) at the inaugural Berkshire 4x4 Show in August 2008 - I'd never attempted one before and my suspension is completely standard but I just had to give it a go!

I got 171cm up the ramp going forwards and 149cm in reverse. A swift conversion to inches & using 92.9 as the wheelbase, I get RTIs of:

Front - 724.4
Rear - 631.9


However, after several years of this, it needed some proper TLC ... so I took it off the road when the MoT expired in August 2010


It doesn't look too bad here (& to be honest it didn't really need much) but I knew it was going to take me a while & it wasn't going to be driveable throughout so didn't want to be paying VED etc for the privilage!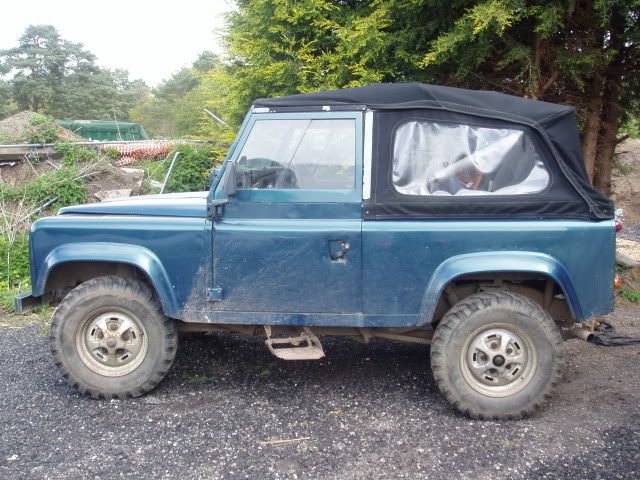 Then of course the dreaded evilBay came along with temptation ...

A couple of areas of the chassis needed welding so, naturally ... I bought a galvanised Td5 chassis! It only came in at about half the cost of one from the 'usual suspect' companies who sell new replacements, including fuel for collection, so I couldn't not buy it


I'd begun seriously scouring the local scrappies too - always enjoyed occasional visits as a kid but now I found a perfect reason to frequent them! One particular visit was a short one so I couldn't save much of this potential 'donor' (unfortunately it was gone when I went back again):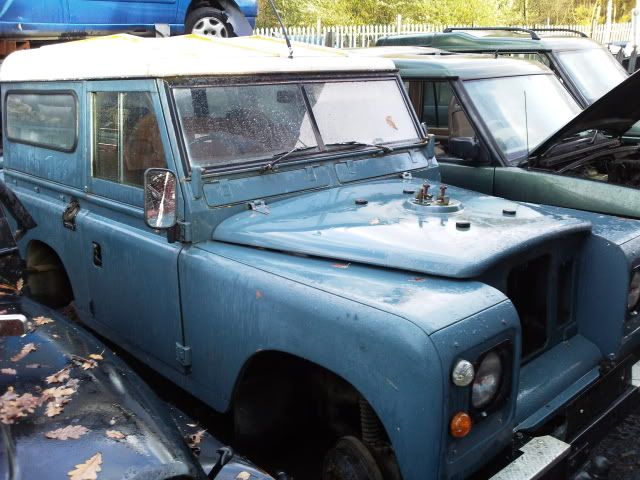 ... but I did get some nice aftermarket LaSalle door trims off it ... sadly they wouldn't fit my hybrid military Defender/Series doors, but luckily it was easy enough to move them on again via eBay. I really couldn't see why this SWB was disposed of so I have a nasty feeling it was a 'scrappage' victim
Similarly with this SWB - apart from typical rotten door tops it would have been easily restorable! Again, there wasn't much on it for me but this one had an interesting homemade wooden dash that a previous owner seemed to have fitted! Not the greatest piece of carpentry by a long way but someone had certainly gone to a lot of effort to make it...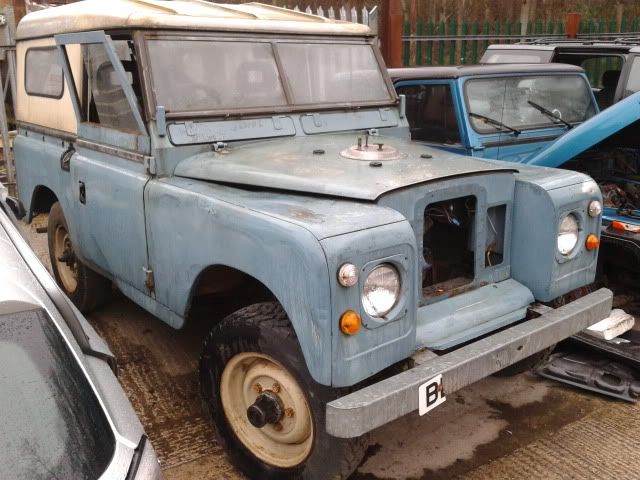 A1 Spares in Wokingham do have their moments I have to say! You would expect the Discoverys, Freelanders & even P38 Range Rovers in a 'general' scrapyard like this but sometimes they rival the specialist 4x4 yards I think - over the years I've seen at least two Jeep Wrangler's, a Mercedes G-Wagen & two armoured patrol vehicles from Iraq!
Defenders, 90s, 110s etc are still less common there but these were available for a time: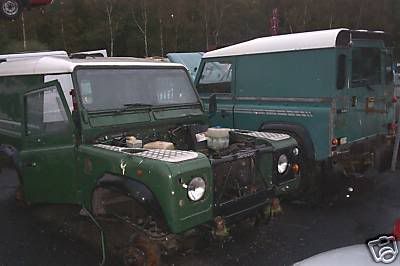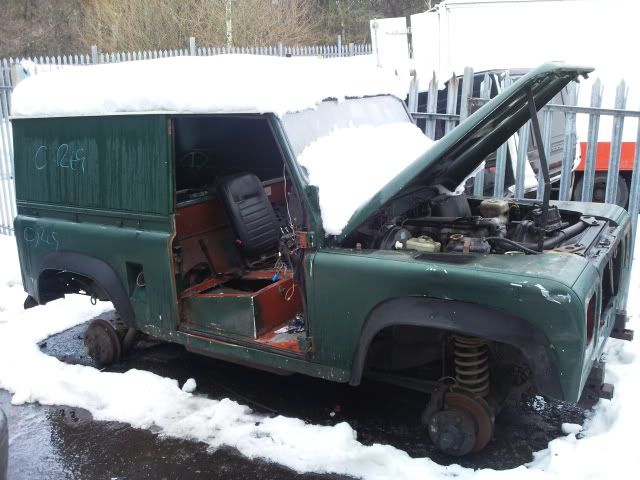 ... I rescued quite a few 'extras' from them. Plus I ended up buying most of the front 'end' of that 300 Tdi with the chequer plate (although sadly there was no engine or 'box by the time I found it) - after a protracted period of spannering, that was stripped to this hacked-up 1/2 chassis :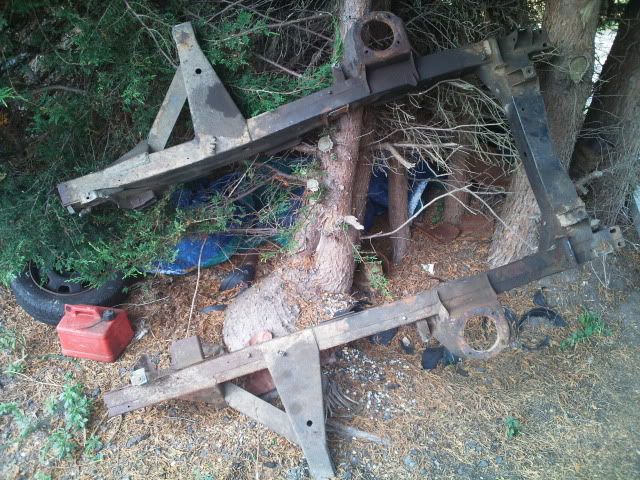 ... and a nice pile of usable 'bits' - especially the (now galvanised) bulkhead!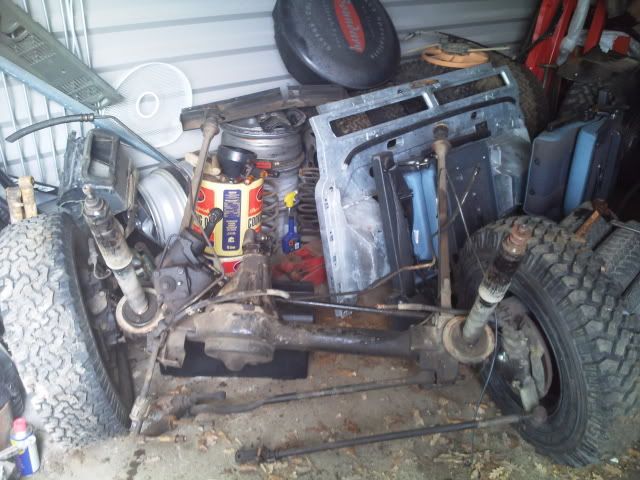 So that is a brief summary of ancient history that takes you up to the Summer of 2010!