Following on from my thread in general (thank you for all of the advice), I thought it was time I introduced you to the latest wheeled money pit having taken the plunge!
I've fancied a T25 for years but the timing has never been right, nor could I afford one (still can't really), but so many of the cars I aspire to own are being pushed well out of my price bracket so it seemed now or never.
With my Mk2 Golf sort of 'done' I managed to persuade myself and more importantly, the girlfriend that buying one would be the best idea ever (yeah...the jury is out on that one) and we'd ensure she had the 'sensible car' to tick the reliability box.
The plan? Sell my daily E46, buy one sensible car between us, and buy a van. The hunt was on!
We wanted a day bus with a bed. Preferably a later watercooled model as I have plans regarding the engine. After looking at some real rotters, some very questionable interiors and an array of 'interesting' choice of accessories ('one life live it', sunset montage VW logo stickers, you know the drill), I stumbled across an original looking van online. One slight snag...it's a 9 hour round trip to view. A few emails back and forth to the seller, sod it, ROAD TRIP. Off we went on the hottest day of the year armed with coffee and a toolkit in case we bought it.
This is what greeted us. A 1989 Caravelle model with a 1.9 petrol lump and a 5spd box.
The couple selling had upgraded to a T5 so they could comfortably go further afield and were really sound people. Full of stories of taking the van on trips, touring Scotland, highs, lows, inevitable breakdowns etc. They wanted to keep the numberplate for sentimental reasons so a few issues with the V5 paperwork, and the DVLA grinding to a halt because of Covid, meant we couldn't take the van that day. A good look over identified a few issues but a deposit was left and an agreement to transport the van down to save another day of driving.
2 weeks later it arrived. In the rain. On a lowloader. T25 natural habitat right?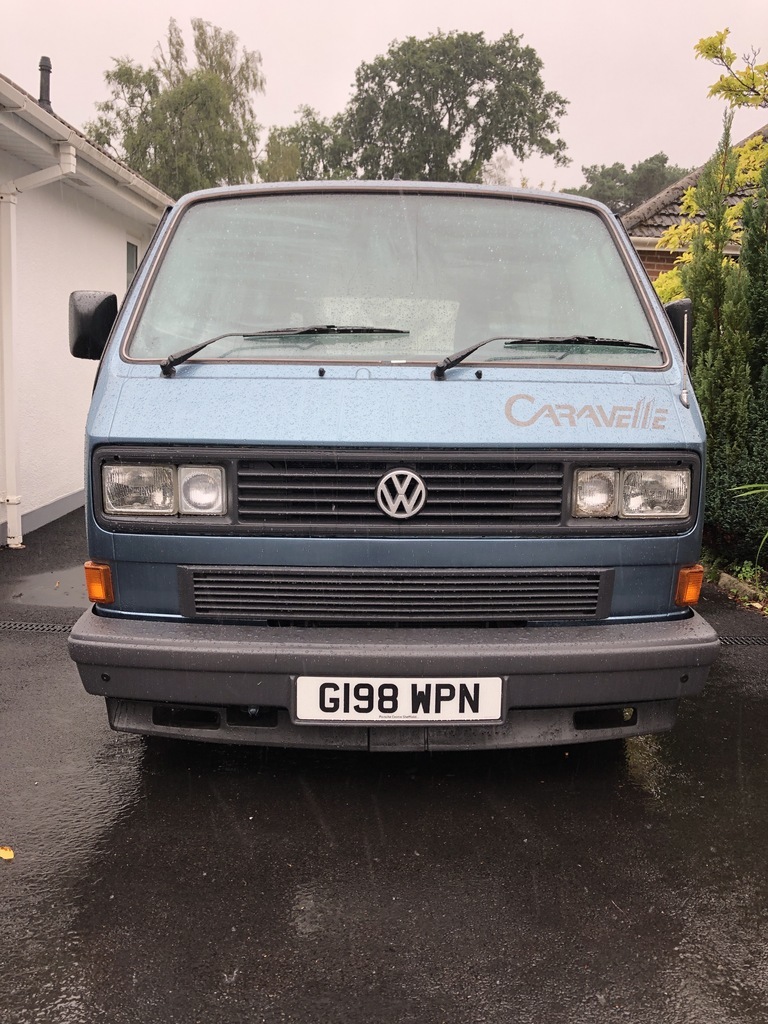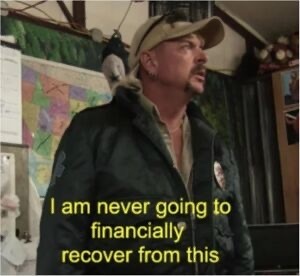 The previous owners had left the van full of equipment, awning, heater, blinds, Haynes manual, a few spares and even left a set of new mugs and new tea towels in which was nice of them.
Time to get stuck in and face the reality of what we'd actually bought:
Good bits:
It's blue. And a genuine Caravelle. Which means it gets a few nicer bits trim level wise. Definitely had a paint job with some of the common areas repaired previously (rears of sills and arches). Paper work is non-existent however a gap in MOT history suggests it was off of the road a few years having some sort of mini resto

MOT'd until mid next year
Full mains electric hook up and under seat heater
It's been lowered
The captains seats are AWESOME
Rock and roll bed with retrimmed rear seat looks pretty tidy
Driving it is comical in a good way - runs alright with a lot of mechanical bits refreshed already
Square headlights
Lots of OE genuine parts (in varying states of condition)
Electric windows (one of which actually works) as well as electric mirrors
Sliding door works at it should
My girlfriend is awesome. She's eager to get stuck in and build something cool. I think she may actually like the van more than me...
Bad bits:
I thought I was used to it with the Golf, but scene tax on T25's is INSANE.
RUST. There I said it. The elephant in the room. I bought the best I could with my budget and bought largely on bodywork however within 30 minutes of ownership I'd poked some holes in it. Gah.

Some short cuts taken on reassembly after the paint job. Not major but not to the standards I want to achieve.

Some serious BOUNCE going on with the suspension
Brickwerks, Bilt Hamber and Just Kampers are going to be doing very well out of me
Gearbox. This image sums it up. Investigation required.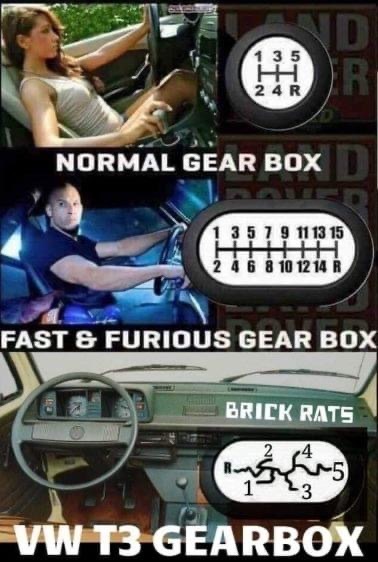 What are the plans then? Is it going to be a daily like I originally intended?
Erm...No

The E46 is staying for now and this has definitely moved into project territory already (I know shocker right…). I want to build a usable van that's capable of keeping up with modern traffic with some power and mechanical safety upgrades. My budget is not infinite so it may take a while but hopefully it'll be decent when it's done.
First up will be the bodywork. Windscreen scuttle is a bit crusty, battery tray, side window and repairs to one of the jacking points. Most of the panels are available off of the shelf but wow they are pricey.
Frustratingly this is the one bit I can't do so it'll be having a stay with my friend who recently sorted some crusty bits on my Golf for me. It has spurred me on however to look at welders and try and teach myself over the winter so hopefully I can attempt some of this myself in the future. After all of this I will be throwing as much Bilt Hamber/Dinitrol product at it as humanly possible.
Brakes and suspension
Rear disc conversion, some wider wheels and tyres and a full refresh of bushes, shocks and suspension components.
Interior
Nothing works. So a new heater motor, matrix whilst i'm in there as it's a dash out job, window motor, LED dash lighting upgrades, tidy up of the dash loom and add some worry gauges so I can keep an eye on things. The rest of it I'm pretty happy with although I'll probs wire up a leisure battery at some point.
Engine
The big one. The DG engine is full of character but, lets face it, a bit sh1t. I always knew I'd want to engine swap one of these. I don't want to be struggling up hills or causing huge tailbacks, and I want fuel injection. So a 2.0 GTI engine or Subaru swap will be on the cards. Probably the latter. Currently researching pro's and cons of both of these but don't be surprised if a Legacy becomes my new daily for a while haha. I had budgeted for this but I suspect it'll be swallowed by a bodywork bill now.
So come along for the ride and watch this thing reduce me to tears and empty my wallet
I'm really new to T25's so any helpful pointers/experts that want to raise their hand I'd appreciate some moral support!
Stay tuned!