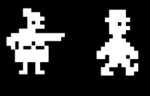 I did just put the tent up but lined it with polythene sheet to stop it getting sprayed inside. I only really considered doing it like this as it was a smallish panel and was very warm outside. I used 2 part mix cans but did have a very good mask to use.
A lot will depend on what paint you intend using. Unless you know somewhere to get paint a lot of places will only supply cellulose provided it's for use on a classic car. The best I could get was basecoat and 2 part lacquer to go on top.
Others have painted whole cars on here and made really good jobs of them so it's worth having a read up.