Right I will start with the following line:
THIS IS A CAT N WRITE OFF AND HAS NO MOT CURRENTLY
Now that is out of the way some details for you: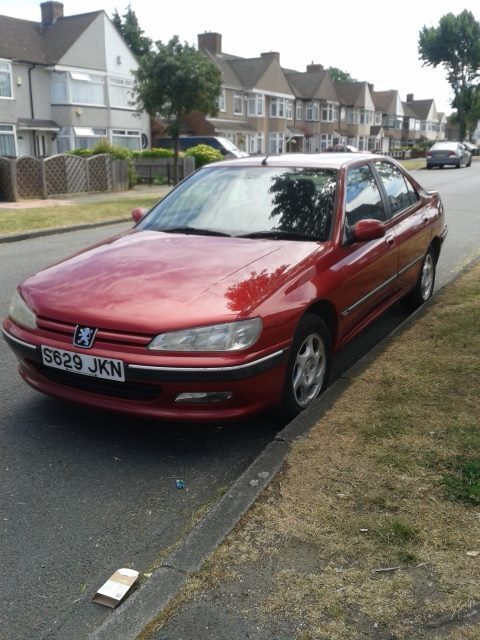 pic from original purchase in 2017
1998 S reg
Peugeot 406 2.0 GLX
Metallic Diablo red (well it was once now a kind of orangey pink)
4 door saloon (well 3 1/2 kind of)
125,669 miles
Positives
Velour interior (super comfy)
working detachable towbar (well last I checked it was!)
central locking (not remote anymore because buttons)
runs and drives
upgraded Alpine speakers
one of the comfiest cars i've ever had
stainless steel rear box, new centre section, original cat
Induction kit
electric windows (well 3 working)
NEGATIVES
Right this is a long list but bear in mind the car is 24 years old and firmly in cheap banger territory
CAT N WRITE OFF
The car was involved in an accident whilst parked outside my house in June (it also wrote off my Fiesta Zetec s Tdci parked opposite as well

)
It sustained damage to the drivers wing, door and rear quarter panel. The door now catches on the wing but still opens with a creak.
After many months of toing and froing they finally settled up and paid me out (peanuts) and i got to keep the car for £19 off the settlement
In an added complication whilst all this was wrangling the MoT ran out and then the tax, so the DVLA clamped it (that cost me £260 to get removed) but there was no point MoTing it and taxing it whilst the claim was ongoing and writing it off!!
Other things of note in the minus column......
rear brakes are borderline (check the last few MoT's) however it comes with brand new discs, pads and calipers!!!
passenger window doesn't work (well it does but won't raise itself)
dents and dings all round (passenger wing is crumpled due to losing a wheel once!!)
clutch wearing (slips if pushed hard but was still using the car to tow with so some life left)
syncromesh on second worn (just change slower)
heater fan has a mind of its own (works if you kick under the glovebox sometimes)
different key for locks and ignition (dunno was like that before I got it)
will be taking the stereo out but probably have one somewhere to put in
gear knob broken (just disintegrated in my hand one day!)
indicators occasionally don't work (a sharp thump on the steering wheel solves this normally)
rear door check straps broken so sometimes foul the window mechs or close on you (odd one never bothered me)
Paint is late 90's PSA spec - curse word - lacquer peel everywhere, it looks smart enough when wet and washed from 20 yards!
I know that seems a long list but i'd rather be brutally honest and you know what you are getting than waste my time and yours
summary
the car is tired and tatty but still has some life left in it. A weekends work should get it through the mot and give you a couple of years comfortable driving, do the clutch and you'll get 4-5 years out of it I reckon.
It has served me very well as my tow car and work steed (towed many cars on a dolly, car trailer and caravan several times), I would love to see it live on but need it out of the way now and just need my money back from parts and release fee really.
If it was ULEZ compliant i would keep it and mot it again but alas the net is closing on me regarding that.
Offering it on here first before the dreaded eBay and Gumtree
Collection is Sidcup, Kent, next to the A2 (near M25/Dartford Crossing and NOT in the ULEZ) and needs to be collected by early/mid December at the latest
£350 ono
hit me with any questions....pics on their way