New guy here with my current project car.
Here in the states these 850 sedans are VERY rare. Most educated guesses say around two dozen of them left in the entire country. The 850 spiders are somewhat common, the sport coupes are hard to find but the sedans are non-existant.
I sold my sweet little E30 325is back in december and needed a new project so I nabbed this since I have wanted a rear engined Fiat for the last 20 years or so.
The day it came home
I readied the garage and hid it away for the next month
What followed was an 80 hour a week scramble that went way farther than I had expected. The car had apparently been stored for 25 years in a warehouse in sacremento california before I wound up with it. Every part of the car needed to be gone through.
I bought a rusty 850 spider for $50 US for the front disc brakes and anything else I could scavenge
Some minor rust repair on the floor
Reupholstered the seats
Did some trading for a set of 60's dealer option alloy wheels
Polished and powdercoated them myself
did a quick and temporary paint job to stop the rotting
I lowered the front with a Faza lowering block and reversed spring eyes. The rear I cut 3/4 of a coil.
After a tuneup and a NOS carb stolen off ebay for $15 I put the car in daily driver duty with the US spec 817cc motor
Tire sizes were 175/50/13 up front and 175/70/13 in the rear
After a couple of months the motor lost oil pressure and spun a bearing. I had already purchased a 903cc motor so I did a quicky refresh and got it back on the road.
At this point I had removed the factory water pump and replaced it with an electric unit from Mezeire, the radiator was replaced with a honda civic unit with honda fan and a VW fan switch soldered into the bottom radiator tank. I had a spare camshaft reground to 283 degree race spec and installed and rejetted an 850 sport spiders Weber 30DIC carb to go with it.
.
I used Empi "Gas shocks" for the front of a lowered ball joint VW bug on all four corners and fitted an alternator from a Chevy sprint to replace the failing generator
The next step was to modify a VW golf MK1(rabbit here) ignition distributor to fit the fiat block so I could use the reliable and cheap Bosch electronic ignition system to replace the worn out points dizzy I had to work with. Works a treat and cost exactly nothing

And that way it stayed for the better part of 4 months until I craved change again. Ordered some 165/45/15 tires and "wobble bolts" to use some of the VW/BMW wheels I had in the garage.
Mounted up some panasport 15X6 wheels I had.
I cannot seem to get a good picture of them on the car. They look very good in person. They tuck all but 7mm of the tire up front. I hope to get some rolling shots soon.
Here is a crappy cell shot with my buddies 76 Scirocco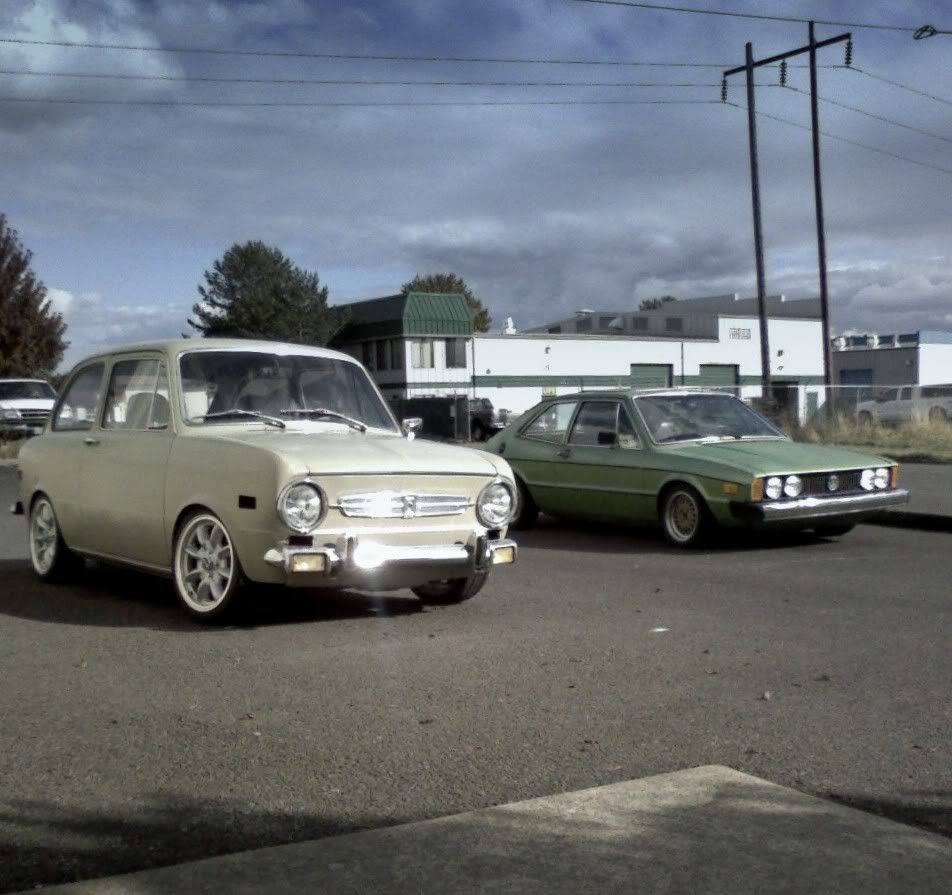 And that is how it is as of right now. Next?
Well this weekend I will attempt to finish up the megasquirt install. I cannot wait to be fuel injected. Carbs are neat but I guarantee that I can get more power and better mileage with injection.
I machined a new intake manifold to fit the TBI system off of a suzuki swift to the Fiat head
And when the fuel injection is working and dialed in I get to mess it all up again by putting the stock camshaft back in and bolting this to the side of it. Lets see how many transmissions I can break
Updates by sunday on the injection.