WARNING: THIS THREAD CONTAINS INTROSPECTION!
It's all Mr. Vulgalour's fault.
Back in 2012 (can it really be that long?!) Mr Vulgalour (or Volksangyl, as he was known then) started the excellent
"Commer – Pics"
thread and reminded me of something I'd completely forgotten – how very, very cool Commer forward control vans and buses are!
They're one of those vehicles that had completely slipped off my radar – I can't recall the last time I'd seen one in real life and if you'd asked me to name a few domestic bases for camper vans, they wouldn't have even been on the list, so far had they been pushed to the back of my memory.
As I read through the thread though, a wealth of memories came flooding back: I remembered my uncle had one when I was a kid, we went to Margate, Ilfracombe and Beer* in it, I recalled the TV detector and post office vans from my youth (yeah, I'm that old…) having a Corgi model of one, the uncanny resemblance they had to Dougal from the magic roundabout and hovercrafts… You know the sort of thing.
*Real place,
honest!
Now Mrs_Em and I had been toying with the idea of an old camper van for some time. But it was never really a major priority; it was always one of those "one day", "when the Herald is finished…" type deals. But this Eureka moment had confirmed one thing: whenever it happened, now at least we knew the camper in question was going to be a Commer.
After this revelatory moment, I did what we all do and started to keep an eye on what was happening on eBay. Y'now, just out of interest, like… Lots of Commers came, lots of Commers went. No hurry; one day. No need to rush; there seemed to be plenty around. Then I started flicking through the odd camper van magazine, browsing the occasional camper website and forum, looking for ideas and inspiration for the ideal camper layout.
As a result of this browsing, Mrs_Em and I started to firm up our ideas about what our dream Commer should be based on, and also how it should be laid out inside. We decided that although the bigger, kinda 'caravan-bodied' vans (like the Highwayman or the Autohome) had a certain retro charm (and the obvious bonus of more inside space), we rather preferred stock Rootes metal work as found on cans like the Wanderer or the Suntor Major.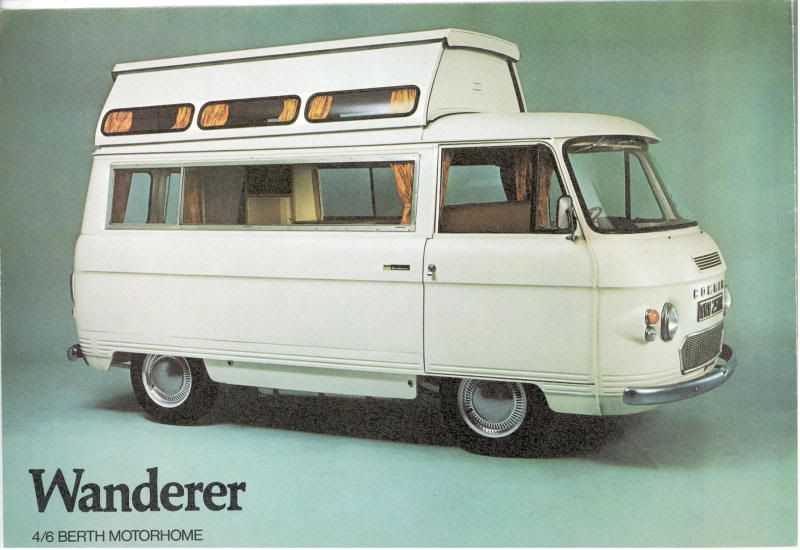 We also decided that the typical layout used by many of the contemporary conversions (where you enter from the rear of the van and there are no side doors) left the inside feeling a little long and narrow, rather like a corridor. On the other hand, although VW vans are rather compromised (in my humble opinion) with their engine at the back eating up a load of space and restricting rear access, we both liked the way their side doors effectively helped blur the line between the outdoors and the indoors, making the outdoors feel like an extra room, weather permitting!
So ideally it looked like we were after a Commer van, or a bus with a side door. Also, we both really loved the little "round-the-corner" windows in the C pillars that some Commers had. A van with those would be a bonus, but they didn't seem to come up for sale very often. And anyway, we weren't in a hurry, remember…?
But suddenly everything changed one morning in early August when I spotted this delightful looking blue mini bus for sale on eBay one Friday morning. Here's a few pictures from the eBay ad.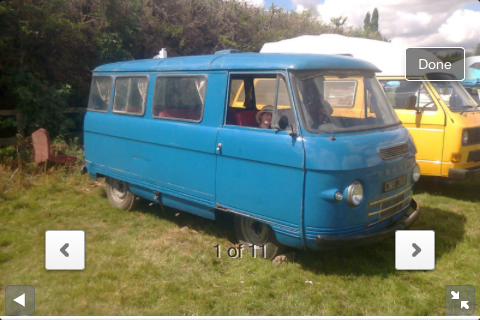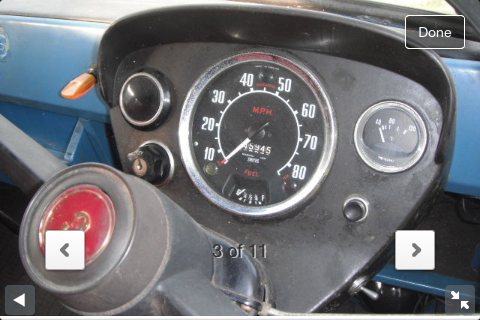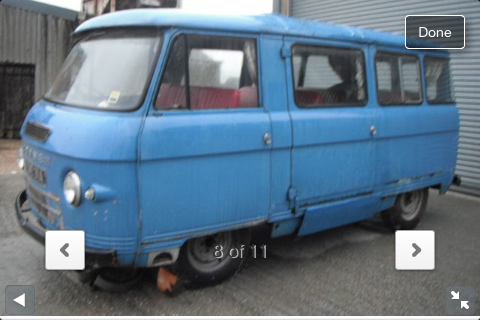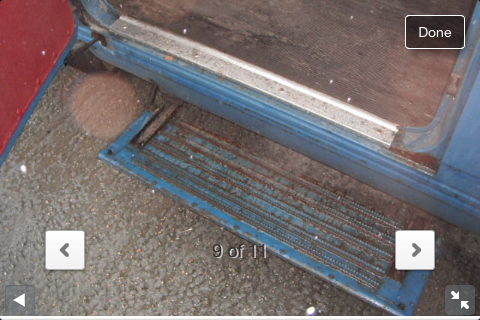 The only problem was I was just 30 minutes away from leaving for a weekend's camping in Dorset, in a complete communications black spot, so any decisions or actions would have to wait until I got home on Sunday night.
The weekend's tenting was largely characterised by me dithering and fretting about whether to buy the bus, much to the delight of my long-suffering mate who quickly became bored of the subject! (Sorry Seedy!)
Come Sunday and despite the fact that I didn't need another project, I had no space for it, couldn't really afford it, don't have the time, should be concentrating on the Herald, and blah, blah blah, I'd decided to try and go for it and managed to get an email off to the owner via the local pub, the only place with wi-fi for miles, happily doing bacon sarnies for the adjacent campers.
On the drive back to London several phone calls were hastily made and storage/working space provisionally arranged. As soon as I got home I logged into eBay to find that – disaster! – the ad had disappeared. I've procrastinated and blown it, I thought. While I've been buggering about in Dorset, someone's beaten me to it.
Happily, a quick check of my emails revealed a note from the seller explaining that he'd been so inundated by messages from chancers, dreamers, tire-kickers, time-wasters and other undesirables that he'd pulled the ad and was contacting the people who were interested enough to get in touch one by one. I gave him a bell straight away and we arranged to meet up the following morning at nine.
The following day I was in the daily Dodge bright and early zipping through the beautiful Essex countryside. At (more or less!) the appointed time, I found the owner's place (a lovely old pub he was refurbishing) and met up with James, the thoroughly affable seller.
James told me he'd chanced across the bus during his day job as a building surveyor, he'd found it in a barn where it had stood for over 40 years! Here's some pics of it as found and after a quick clean up from the eBay ad.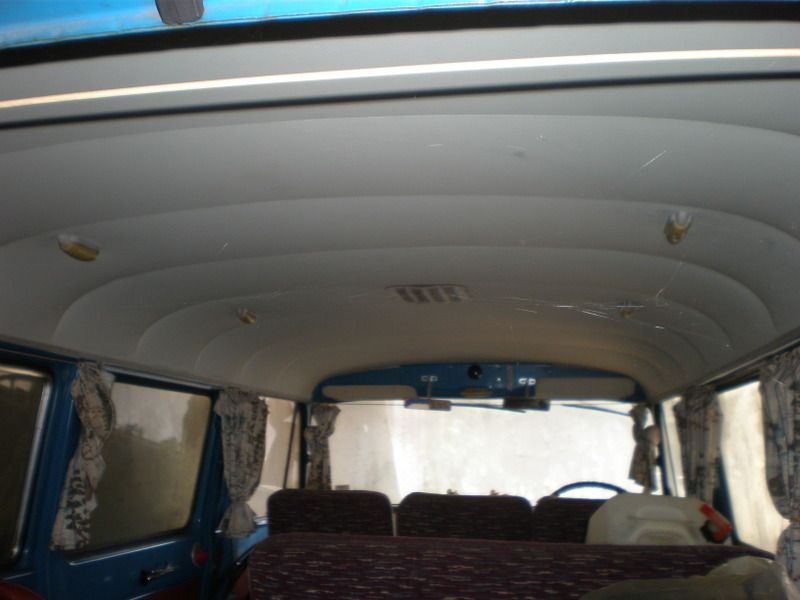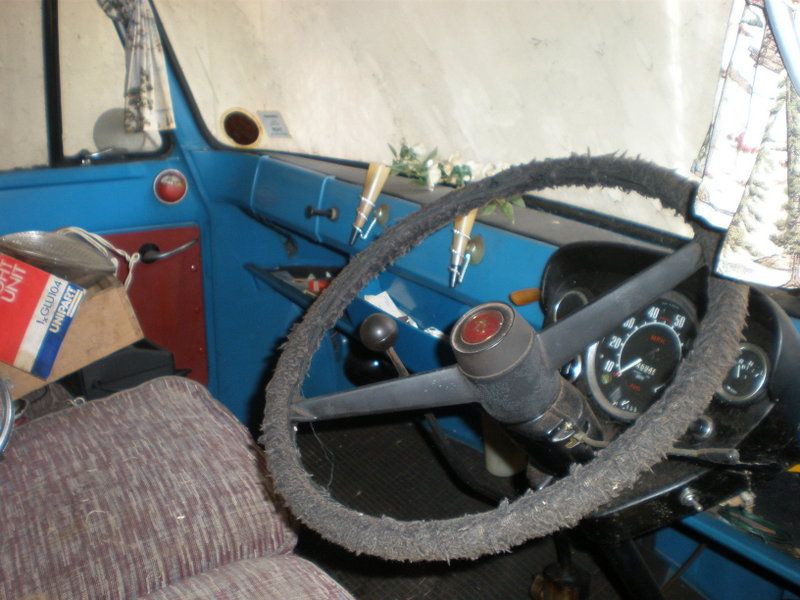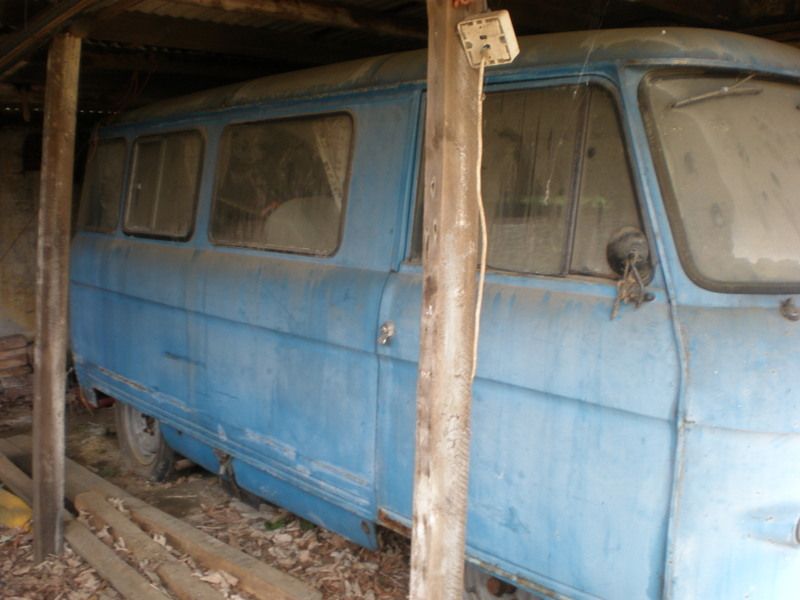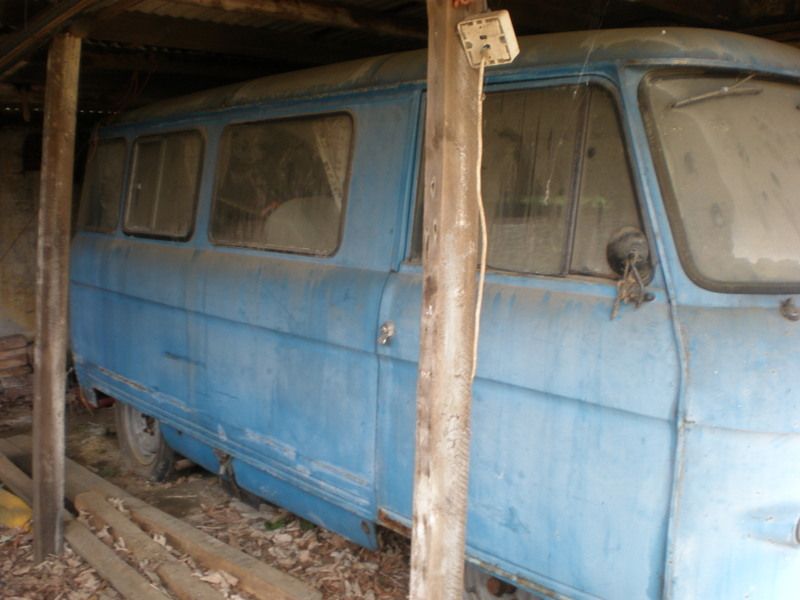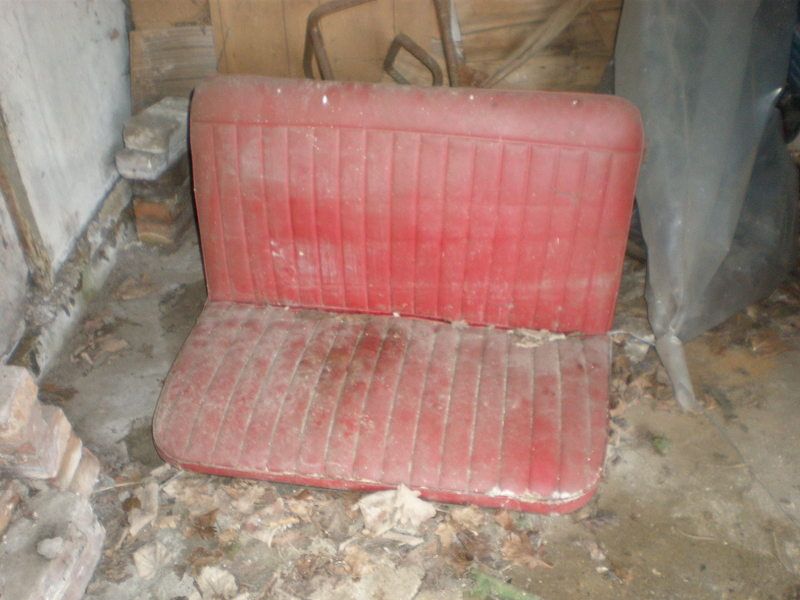 James had bought it from the proverbial little old lady, the ex-wife of the original owner. The story goes that when the couple split up back in the 70s they had divided up their home, each taking half each, and the Commer had been parked up in a barn and hadn't moved since. James had bought it intending to get it back on the road and use it for family camping holidays, but after a year of ownership (and the purchase of a pub needing major restoration!) he reluctantly conceded he wouldn't have time and put it up for sale.
The bus was currently stored just a few minutes away on a farm belonging to a mate of James' called Cliff, here's some pics of what greeted us when we turned up there.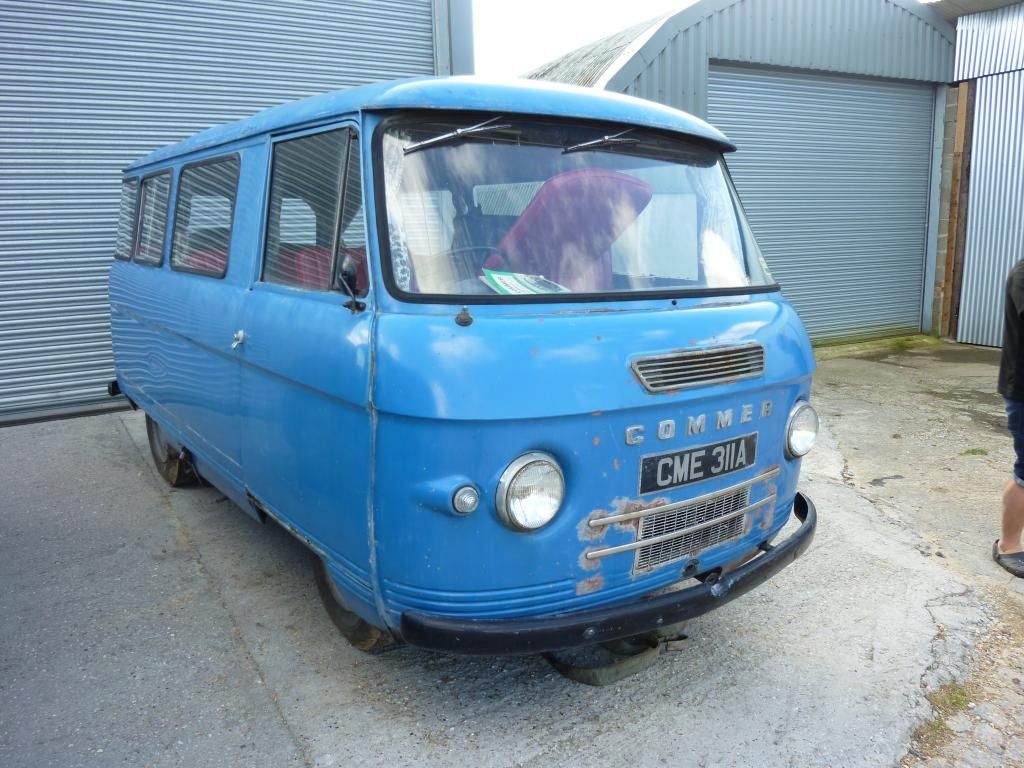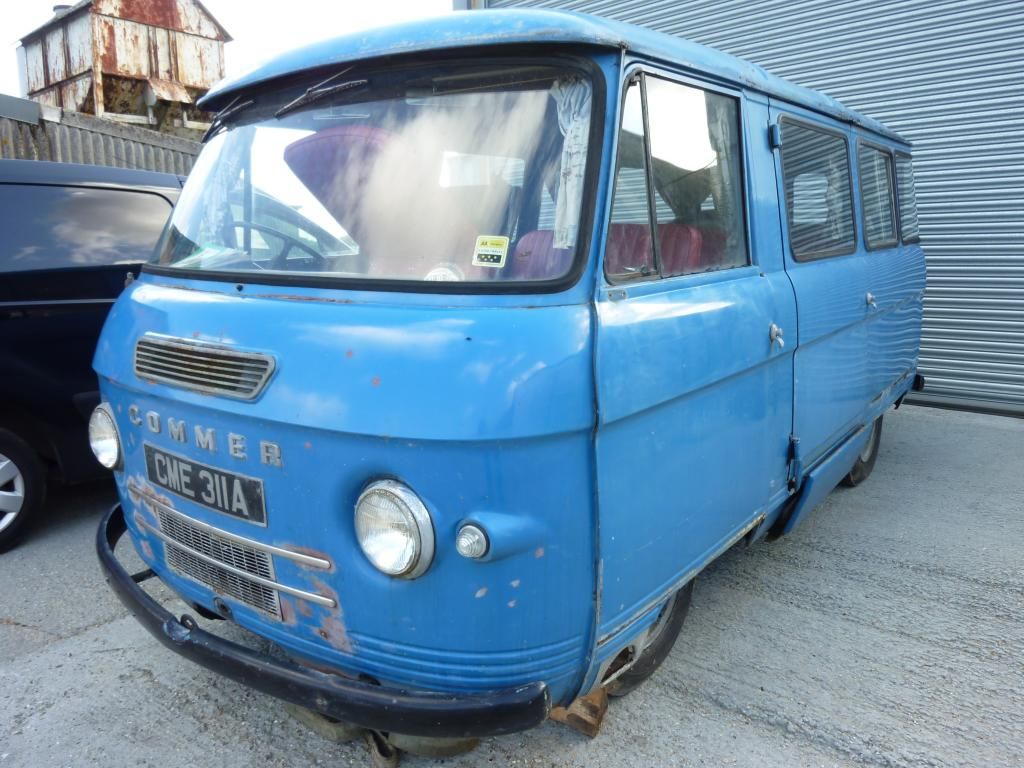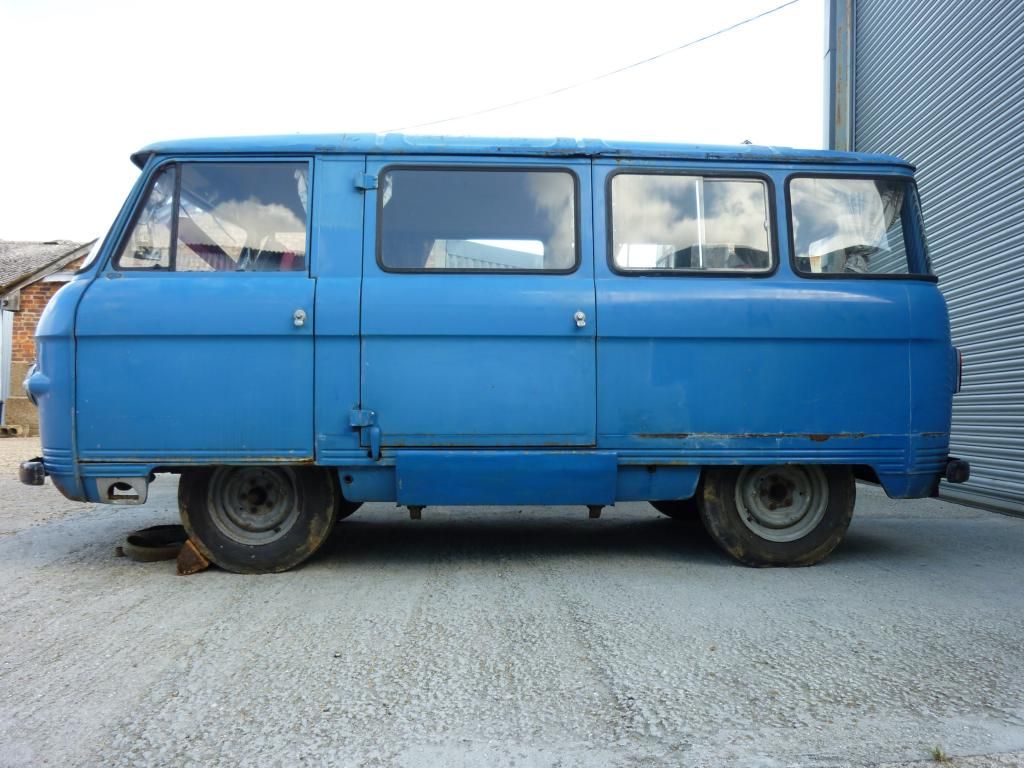 Given its age (and the propensity of these things to rust!) the bus is in amazing condition, especially underneath. At some point in its life the underside had been sprayed with old engine oil and has done an incredible job of preserving it. (I used to do oil spraying on customers' cars when I worked in a garage years ago; it was a hideous, smelly and dirty job but if this is representative of the results, I'm a convert!)
There's some rust along the roof-to-side seam above the side door on the near side, and along the floor-to-side seam on the same side. The lower edges of both front doors have suffered to some extent but apart from that, it's in incredible condition, especially inside. It's quite possible it's never been welded; I've yet to find any evidence of any, at least. The underneath is in amazingly solid condition; everything is coated in a layer of oily grime but below that the metal seems un-holed anywhere.
Inside, the red vinyl seats are all present and correct with no rips or tears and the original black rubber floor mat (no carpet here!) is there too. The headlining is in perfect, unmarked condition too. There's evidence of some sort of camping use inside; along with the none-more-retro curtains (complete with Alpine scenes!) there are small sections of Dexion angle iron screwed to the sides just behind the front seats which support a set of home-made wooden cupboards which were found in the back of the bus, still with the odd plastic cup and plate still left in them… There's also a little folding table (actually a wallpaper pasting table) painted to match. Cute.
Needless to say I was pretty much sold on it instantly; I don't think I even tried to act luke warm and try to 'strengthen my bargaining position'! In fact, James had already had a huge amount of interest in the bus and had been offered a pretty sizeable chunk of cash from a potential buyer in Scotland, sight-unseen, so the pressure was on for me to decide fast. James generously gave me 24 hours to think it over and discuss it with Mrs_Em, and as you'll have deduced by now I was back on the 'phone the following day talking numbers. Naturally I'd need to match the Scots guy's bid to start with and again, James showed himself to be a top man by just requesting a little on top to cover a the couple of weeks of storage fees he'd accrued. CME 3111A was now mine! HOORAY!!!
The icing on the cake was when Cliff offered to deliver the bus from Essex to south London for a very modest fee, something I hadn't been looking forward to arranging.
Here's a few shots of it as it arrived at its new home…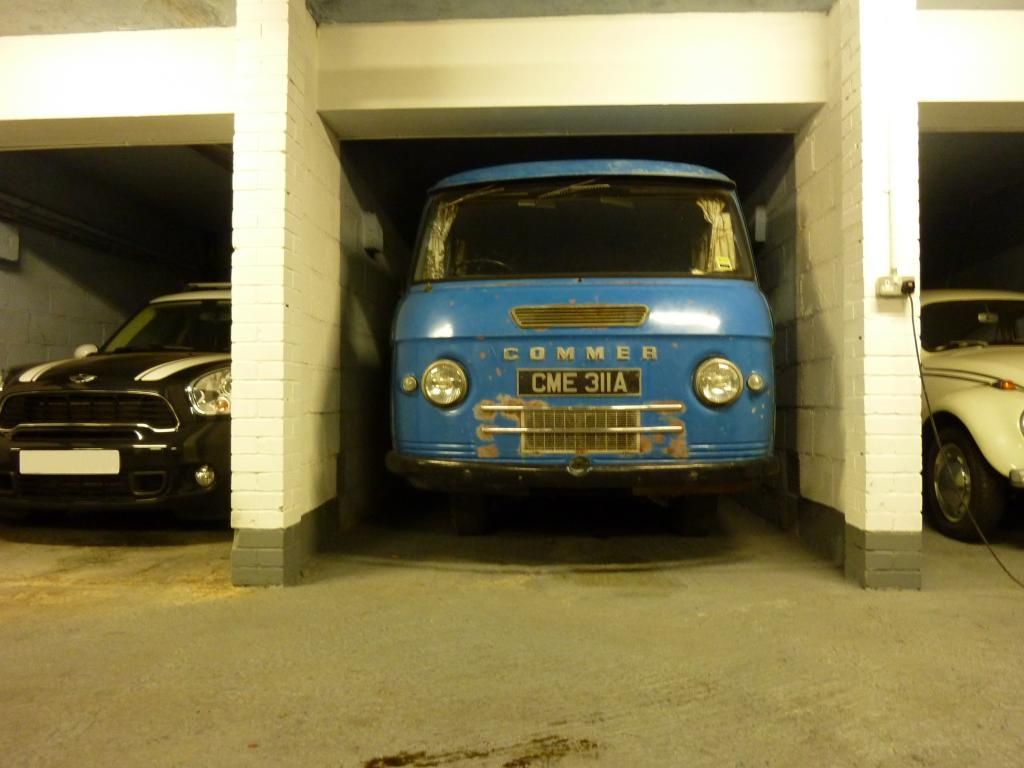 …and here it is all safely tucked up for the night.
From left to right: Myself, Seth and PaulW (all of this parish) conduct an examination of the cab and controls…
…and Mrs_Em tries the passenger seat for size. She's slightly concerned about the lack of seat belts. (They're the least of the things she needs to be worrying about. I don't tell her this…)
Along with the already mentioned signs of European touring, I came across this in the back, a continental road atlas and pages of hand-written notes with destinations, ETAs and ETDs as well as estimated and actual fuel usage. One day, when it's back on the road, I'd rather like to recreate this trip…!
Even more fascinating was a thick folder that Cliff gave to me, marked "Tests carried out in Mexico on a 1500 light bus." It turns out Cliff's father had worked for Rootes and been involved with a series of exhaustive tests on a pre-production bus on some very challenging roads in Mexico.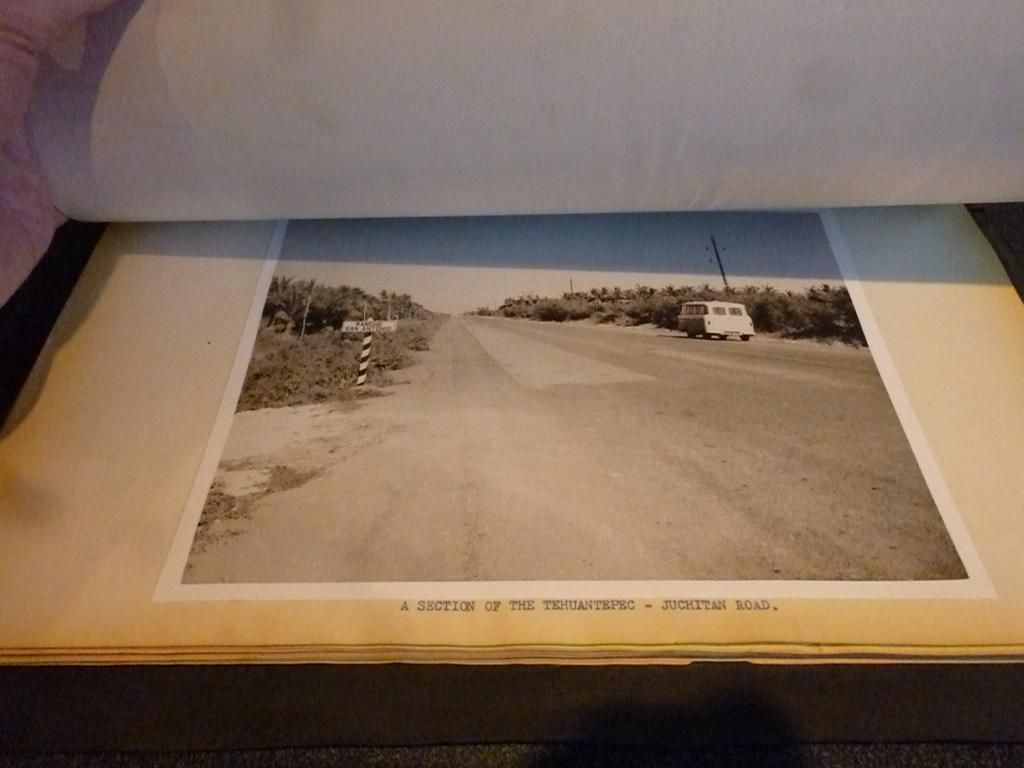 There are copious and thorough notes from a huge variety of tests detailed here, with a great deal of attention paid to the ingress of dust, which was, erm, plentiful! Not quite "Turn left for Tangier" maybe, but a fascinating account of some of what's involved in readying a vehicle for sale.
So, what are the plans for it? Well, in the short term, get it re-commissioned, MOTd and back on the road! Then start putting some miles on it and see what falls off and replace as necessary.
Part of this process will probably involve a spot of mild lowering, chiefly because there's barely enough room between the top of the roof and the lintel above the door where it lives to get in and out. Getting it in (it's yet to go out again…!) was a rather fraught process that involved me inside manning the handbrake, a burley assistant standing on the rear step as ballast and Cliff eyeing the perilously small gap 'twixt roof and door frame and shouting out directions… Clearly, this is an unsustainable situation so a drop of a few inches should ensure some peace of mind.
I've also managed to find some alloys that I hope will fit. They're Ansens, in 6X15 size. I'd been looking for ages for something in 5X5 PCD
for a while,
but hadn't turned up anything positive, so against my reservations with unilug fitting, I picked these up at the NSRA Southern Swap Meet in March. I've yet to try them on, but am reasonably confident they'll go…!
Slightly longer-term plans call for a camper conversion. (This is after all why I bought the thing!) The only problem is that this appears to be such an original, unmolested bus that it seems a real shame to mess with it and destroy the originality. I mean, look at how lovely the headlining is! Could you bring yourself to cut a hole in that for a pop-up roof? I'm not sure I can…
Much longer term plans will probably involve some sort of turbo-diesel conversion. Despite what I've just said about originality above, I'm not sure how life at 65 mph will feel again, I've rather got used to slightly brisker motoring lately…! This is all a long way off, however.
So what have I actually done to it since acquiring it in August last year?
Erm, very little, to be honest! I've bought these brake and clutch parts (I'm a little paranoid about brakes and it's the one area where I don't mind spending money) and, er, almost finished fitting them!
Next job is to remove the slightly weeping fuel tank and see if I can fix that then strip and rebuild the carb, fuel filter and dizzy, set the points, timing, valve clearances etc, replace the missing water hoses and thermostat casting and get the thing running again! I'll keep you posted.
To end, massive thanks to James for being an extremely decent seller and turning down promises of more money to sell to me and making it a simple, trouble-free deal. Also big thanks to Cliff for a hassle-free delivery at an extremely agreeable price, as well as the fantastic background info from his Dad. Cheers Lads!
And finally a warning – to anyone who thinks my rate of progress on the Herald is best described as 'glacial', this build is likely to make continental drift look quick…
Cheers!
Em.