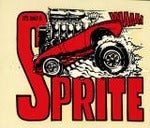 Looking at pics of your IRS and reading the saga of the radius arms I checked mine - I am planning to use the standard XJS arms but they run forward at 90 degrees to the lower link arms on the XJ-S, so the chassis end is nowhere near the inner pivot line - but presumeably it is due to the big rubber bushes that are used in the standard set up? Also as the driveshafts are now shorter, then the chassis fixing point is moving to a position slightly closer to that pivot line. As yours is rose jointed there will be no compliance and so yours needs to be geometrically correct.....
Hi there Phil,
Yeah, you're spot on; the huge rubber bush at the forward end of the radius arm (as well as the smaller one at trailing end) provide enough 'give' to accommodate the 'change in length' the radius arm sees in this location.
As you say, if you go to spherical rod ends and urethane bushes (with their minimal movement), you've got to be pretty accurate mounting them! It was a bit of a faff on mine but I got there in the end and the hubs now go up and down nice and smoothly…
You gonna chop the radius arm front mounts from the floor of your XJS and use those? I'd imagine that would work perfectly; after all Jaguar used that layout from 1961 to 1986!

Lovely neat panel work Em.

Cheers Seth!
I'm just hoping it will look as nice once the paint goes on! My fear is all the little imperfections will suddenly be screamingly obvious…
Buy hey, that's what body filler was invented for.