&nbsp
Firstly apologies for this belated thread starting, I started work on this car about a year ago (or more)
I only posted pics at all in the last couple of months or so on Autobahnstormers and Total Carlton.
RR is the only non manufacturer specific forum I bother with, full of the stuff I like and I've recently started to enjoy the build threads so thought that the least I could do was contribute a bit.
Apologies now for whats below maybe not completely making sense, its because the only way I will catch up here is to do some copy and paste and therefore it might have bits of comments in reply to other things not written here, a bit of a mess but I thought better than not posting,
Anyway, here goes with lots of copy and paste probably over the next few days to get this thread caught up to the other two places its posted. –
I've been meaning to start a thread about giving this car a chance of a new life for a long time but once I'd left it too late it just seemed to become a bigger task to backtrack and I never got to it, lots of other pressures didn't help.
Anyway the car had reached the end of a tough life and was about to be scrapped and the few not broken parts left kept for spares. I liked the car so much that I decided to do something with it.
The idea initially was to just give it a quick & dirty repair, stripping it of everything non essential to leave a lightened car with only the bare essentials.
It didn't quite work out that way and to be honest the project doesn't really have any direction regarding the aim of the result, I'm just doing whatever I feel like at the time, just for fun really.
You might ask why it was almost scrap, well when I bought it in 2010 for £300 unseen it was to run for a while then break, it had a lot wrong with it including a lot of rot and a lot of badly repaired rot.
By the time I'd done a lot more ropey repairs to keep it on the road for a few more years it was in a pretty shocking state, but I always liked it.
At the point of starting this project it had lots of rot, knackered gearbox, the usual headlining issue, two not working windows, collapsed rear suspension, was barely driveable due to juddering and absolutely countless other things I cant remember broken or faulty. Genuinely what most sane people would call beyond repair.
So why have I finally got around to posting about it, well, I reached a dubious milestone with the project on Sunday (edit, this was a Sunday a few weeks ago) that made me realise the size of the job and that it was about time to post a few pics. I passed the 100 mark in the patch count (yes, I've been sad enough to mark every patch in tally charts as I've gone). That's not counting any panels cut off for access and welded back on, just new pieces I had to make and weld in to make it solid again. I'm hoping that I've broken the back of the metalwork now as I think it might be complete at around the 130 patch count mark.
Unfortunately because I've left it so long to start a thread I've got too many pics to sort through and cant even remember the sequence of events so I'll be leaving out a lot of the detail to catch up.
Anyway, it got driven into this garage at the end of 2013 I think and nothing much happened until last summer.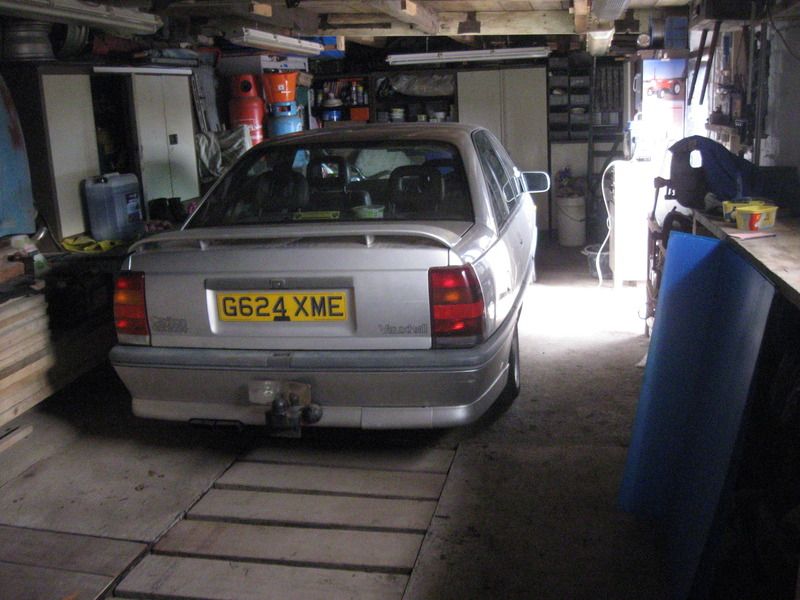 Except that we relaid some of the floor behind it and reinstated the extremely handy T shaped pit which had become dangerous.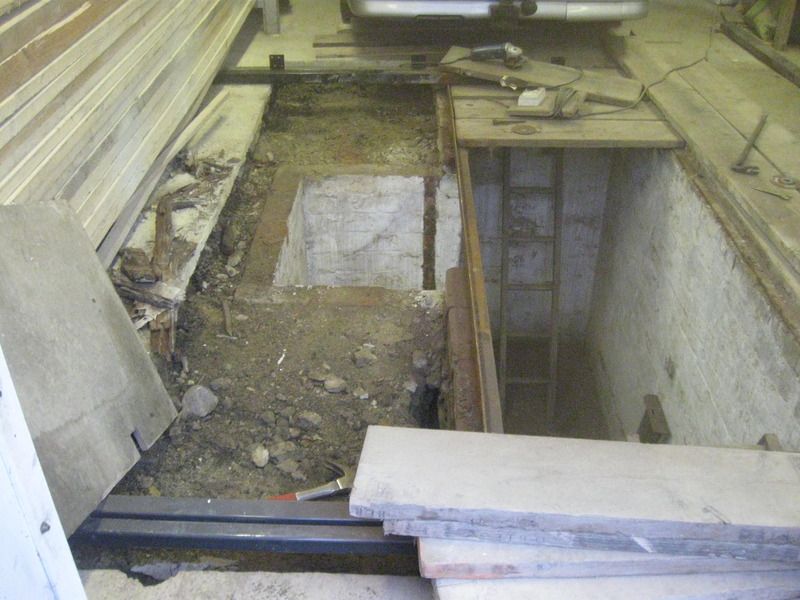 One of the challenges of the project is the garage, I had no room at home but I rent an allotment with this garage in it, it was a derelict shell when I got it but with a new roof, steel doors, brickwork and recommission of the pit, wiring etc etc it was ready for its first project car.
The garage location means no mains electricity by the way which has been a huge challenge for a car needing so much welding and considering that I mainly only get to it on a night. More about that later.
The next thing that happened was to remove the engine, which was difficult because whoever last had the engine apart had left off the front engine lifting bracket and it cant be refitted without removing the inlet parts.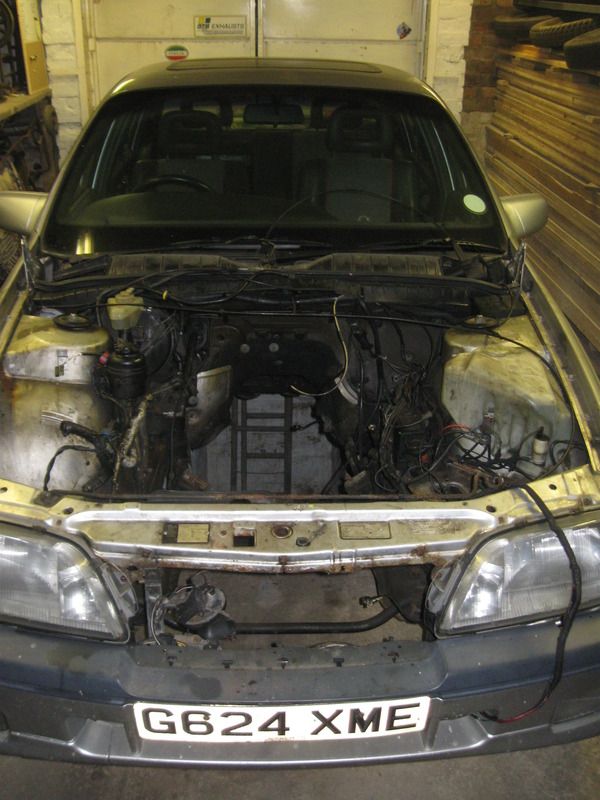 The idea of removing the engine was to make it easier to fix some odd bits of rust.
I had no idea just how much rust was waiting but made what might seem like a silly decision to intentionally not look any further than I was working in case what I saw put me off taking the job on. I was right not to look, had I known what I know now it would definitely not have been repaired.
I have stuck to that decision to not look any further than where I'm working and it has never ceased to amaze me.
I will try to add a few pics of the progress as often as I can until I catch up.
Have a little teaser to help you see why I'm surprised the car hadn't collapsed into a mis-shapen heap on the floor.
See through chassis leg.