Afternoon all,
After a couple of boring dailies to deal with a 60 mile a day motorway commute, I now live within 15 miles of work so will be pressing one of a selection of bikes into commuting action. This means I can have a less boring car!
I'm pleased to present my new project:
Picked up from oop narth last weekend, 4.5hr drive home in the rain, arriving at 3am - good as gold

There's planty of rust for me to deal with, for example, tailgate is BAD: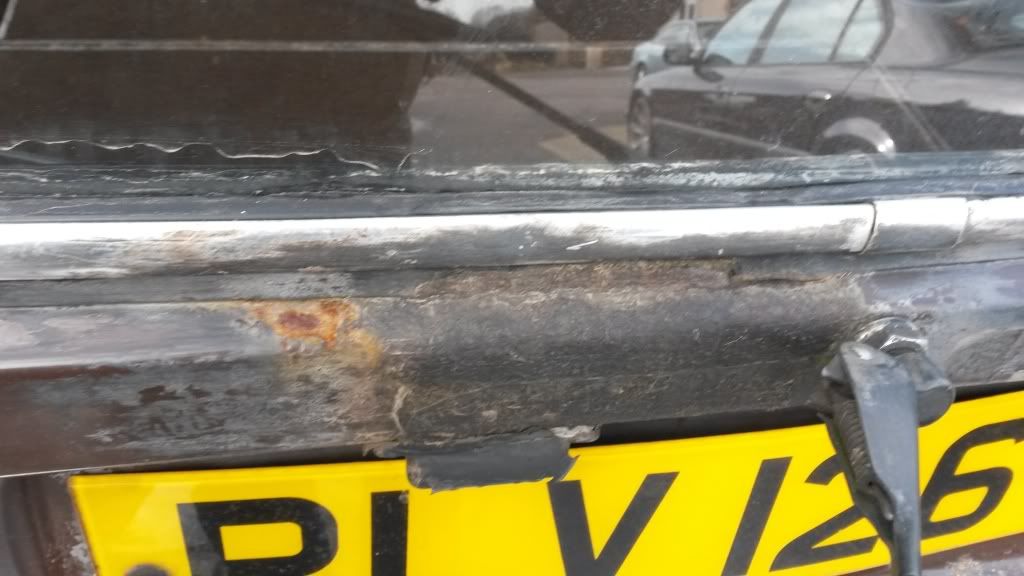 This is coming through on the inside, and will need a fair amount of new metal, or most likely replacing.
Rear arches look ok
this is the worst section, OSR arch
Sills have been repaired very roughly, this will need redoing
The spare wheel well and opposite side have had the same treatment, one badly patched from the inside, the other from the outside!
And then there's the screen surround...
this is a hole (about 1/3 in from the right)
All in all though, it's reasonably smart.
Other problems:
there is a wheel imbalance issue, 30-40mph is uncomfortable but I'm collecting some temporary wheels this evening. The old tyres are pretty much shot anyway.
The brakes pull to the left on initial bite
The fuel consumption is AWFUL, 20mpg on the return journey at 60-70mph in 4th
The driver's seat has collapsed, the back doesn't adjust and it's filthy!! Still comfy though??
So, the to-do list, roughly in order, is as follows:
Sort out wheel wobble
Thorough service, including checking the brakes aren't binding
lows
Screen rust repair
Tailgate replacement
Interior work
Gearbox conversion
Sill and wheel well repair
Paint
Paint wise, I'm thinking of a homer, I just need to decide what colour. I can't justify the cost of a 'proper' respray and I don't think my meagre skills will come close to matching the original paint, plus there's a fair bit that needs doing
Hoping to get stuck in this weekend!
This is my favourite angle